30 Big Bambu マイク+ダグ・スターン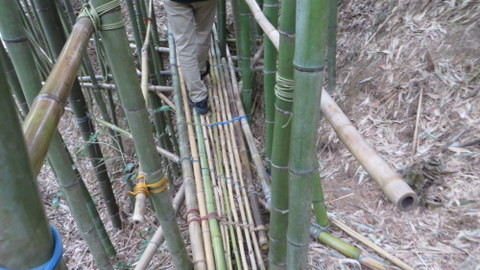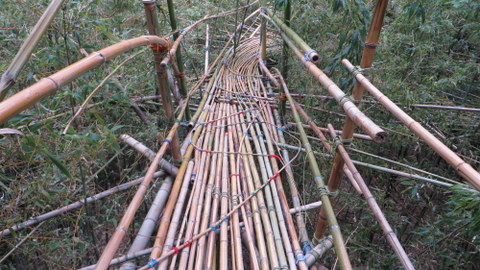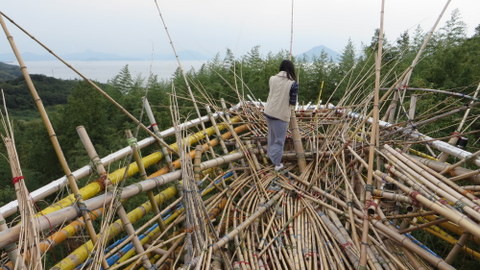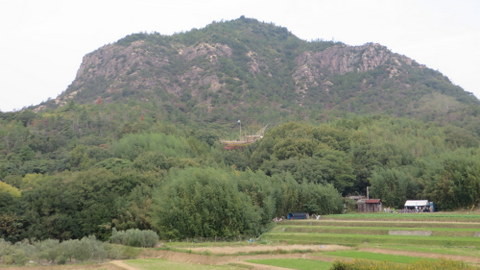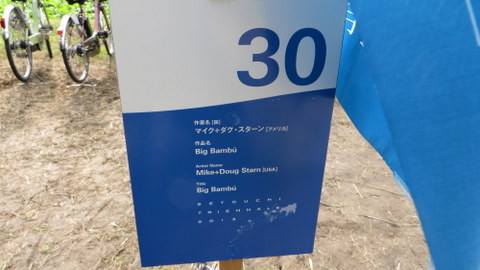 「
Big Bambu for the Setouchi Triennial, 2013
Built for Soichiro Fukutake's Naoshima Museum and premiering on July 20th for the Setouchi Triennial on the small island of Teshima on the Seto Sea of Japan, 10 minutes from Nishizawa's Teshima Art Museum; the most recent artwork in the Big Bambu series utilizes and comprises an entire bamboo forest.
A beautiful path through the bamboo forest ultimately leads to a Bambu walkway tied with climber's cord directly to the living stalks and winds its way up through the forest, higher and higher, until ultimately breaking through the surface of the canopy of bamboo leaves. Only the visitor's upper body will emerge and the elevated pathway will be facing our vision of a large fishing boat- over 60' long-but made entirely of Bambu - floating on the canopy sea of bamboo leaves at over 60 feet high. The visitor will approach the boat on our path as if swimming through the canopy, then climb aboard the boat. The view out from the boat will show the waves of bamboo leaves flowing in the breeze with the Inland Seto Sea and a neighboring island in the distance. Bamboo leaves break over the sides and bamboo flows across the deck, long poles used in the fabrication of the boat are splashes and fishing poles.
Entering the cabin of the boat- the visitor descends below deck into the hull to see the interdependent structure creating the being of the boat, a catwalk through the crawl space inside the hull leads the visitor to the bow to the observation bubble which was thought up in a dream actually*.
The structure is created from several hundred living poles in the rhizomatic root system of the forest (new poles sprout daily, encroaching the elevated pathway) and about 2,000 poles harvested from other forests on the island and from Kyushu.
The pathway is about 200' long and the canopy sits at about 60' off the ground, the boat is over 60' long, but the capacity will be only 8 or 10 people at a time to keep the experience personal. The Starns brought 9 of their experienced climber crew and additionally 4 Japanese climbers make up the team building the artwork for 4 weeks, along with the support of many other new local friends on the ground.」
Mike+Doug Starn